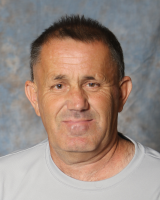 Mark Rein
Bio

Mark Rein is a correspondent with the Star-Herald. Email sports@starherald.com to reach Mark.
The WNCC volleyball team fell in three sets to Blinn College in the first round of the NJCAA national tournament on Thursday.
When Anuhea Kaohi and the rest of the Western Nebraska Community College volleyball players stepped onto the floor back in the fall, their goa…
Gering's Quinton Chavez realizes dream signing a letter of intent to wrestle at the University of Nebraska.
The WNCC baseball team earned a doubleheader win over NJC on Tuesday at Cleveland Field.
Paul Panduro leads WNCC to an 11-1 win from the mound striking out 10 McCook batters on Sunday.
LA JUNTA, Colo. – The Western Nebraska Community College women's basketball team fought hard, but the No. 3 ranked Casper College women's bask…
The WNCC softball team picked up two wins over Luna in Las Vegas, New Mexico, on Wednesday.
The WNCC women's basketball team is set to face Casper in the semifinals of the Region IX tournament on Friday after downing LCCC on Thursday.
The WNCC women's basketball team is eager to hit the court in the national tournament after it was canceled last year.
Four WNCC volleyball players earned accolades after winning the Region IX tournament on Saturday, April 3.
View all