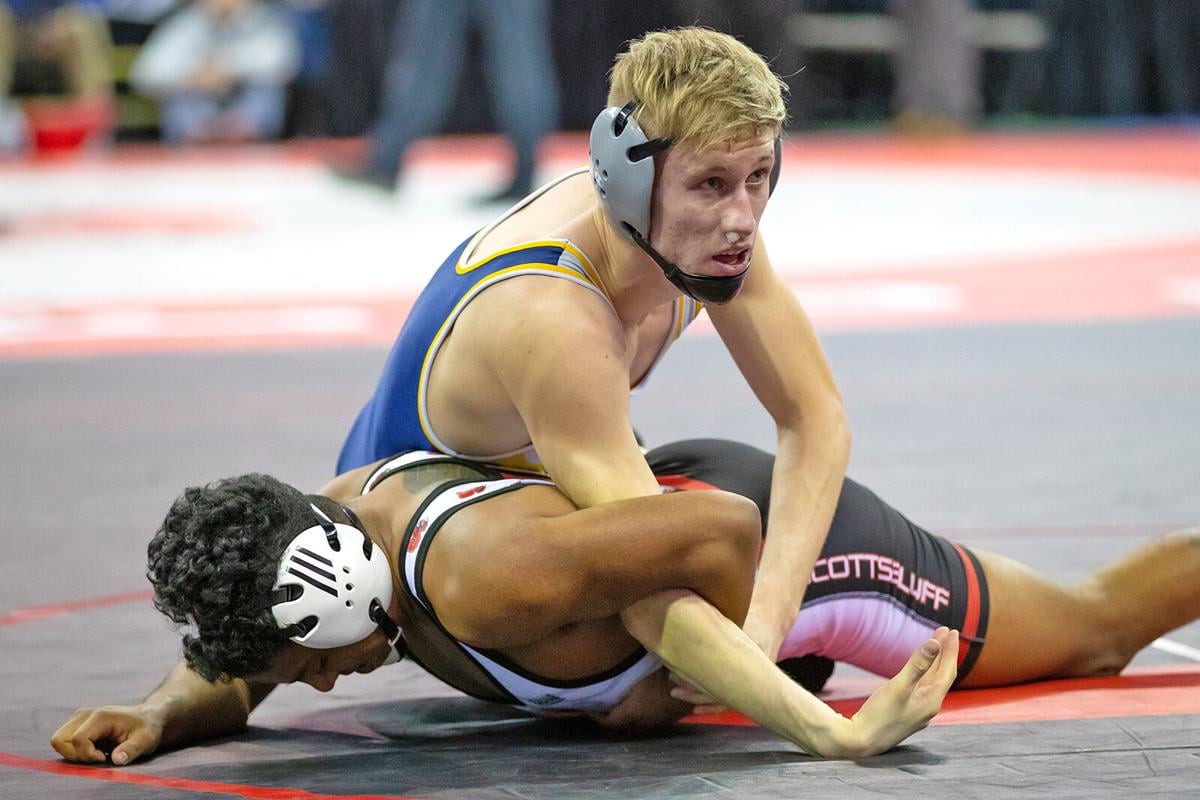 OMAHA — The Gering wrestling team claimed its first state championship in 24 years edging out Beatrice 116.5 to 112.5 during the NSAA State Wrestling Championships on Saturday.
The Bulldogs had to have some chips fall their way to win the Class B title. Beatrice needed to win all three of its title matches and score bonus points to overtake Gering, but fell short as they closed the gap to 116.5 to 112.5.
Gering coach Jarred Berger said his team was pumped about winning the school's first team title since 1997.
"We were pretty elated. We were super excited. We we're pumped up," he said. "It's been a long time coming. This was a goal of theirs at the beginning of the season. Anytime you accomplish a really big goal like that, it feels really good."
Winning a state title without an individual state champion is an unheard of feat, Berger said.
"I don't know if it's ever been done in this state. I haven't done the research, but I don't think Gering has ever done it without a state champ. It was a little bit different, but we're state champs," he said.
Berger, who has been the Bulldogs coach for four years, said the program has been steadily building to this moment.
"When I took the program over four years ago, we had just a couple of good guys to build around. We just kept adding to it every year. The kids improved and worked hard and did things in the summer. All of that work outside of just the season helped us to win a team title. This was truly a team battle. We had no (individual) champs. This was kind of the hard way."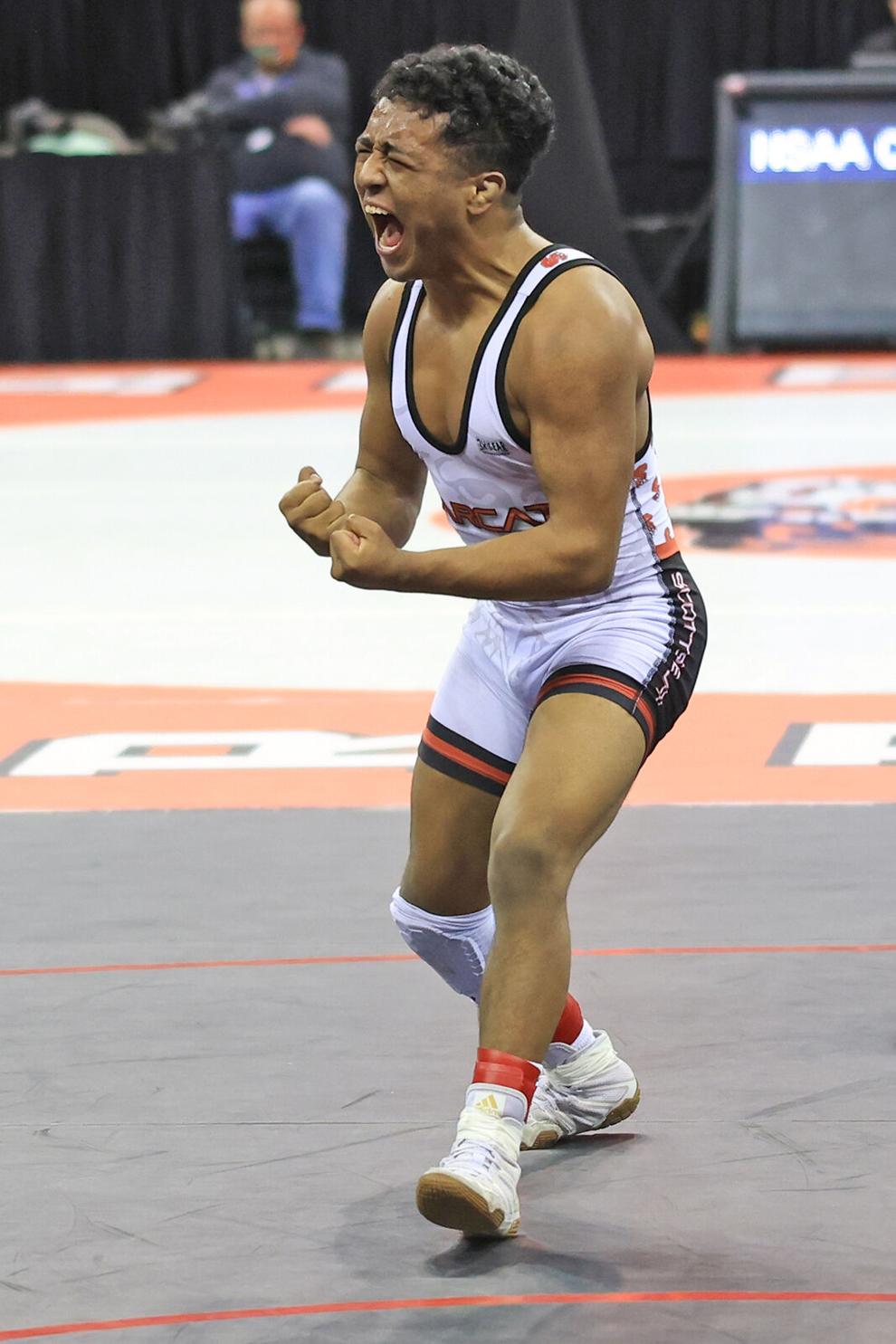 Berger said this is just a step in the direction in rebuilding the Gering program to its former glory.
"This is the start of a lot of really good things to come. We have a lot of really good kids coming in to the program kids right now. We lose a lot of really, really good seniors, but we're gonna be in good shape and and continue to reload."
Scottsbluff's Paul Garcia won his fourth straight state title with a 1-0 double overtime win over Gering's Paul Ruff.
Garcia earned his fourth trip to the finals after downing York's Thomas Ivey 4-2 in the semifinals. Both wrestlers started off slowly, with Garcia taking a 2-0 edge into the second period after getting a takedown with 16 seconds left in the first. Garcia went up 4-0 with a takedown with 1:12 left in the second. Ivey, though, picked up a point on an escape two seconds later to make it 4-1. Ivey would score again on an escape in the third as Garcia escaped with the 4-2 win.
Ruff exacted revenge on Broken Bow's Cyrus Wells, who took a controversial 5-4 win over Ruff in the B-8 District Tournament. Wells had a point deducted and warned several times for poking Ruff in the eye in that tournament. In their semifinals match today, Ruff didn't let the match go the distance pinning wells in 4:36.
Scottsbluff's Paul Garcia became the 34th wrestler in Nebraska history to win four state titles.
Gering's Ashton Dane dominated Wayne's Garrett Schultz from the opening buzzer to advance to the 106-pound title match. A takedown and nearfall in the first period gave Dane a 5-0 lead. Neither wrestler scored in the second. Dane picked up three more points in the third on an escape and a takedown to win 8-0.
Dane finished second after dropping a 6-0 decision to Aurora's Caden Svoboda in the championship match.
At 120, Gering's Quinton Chavez lost his bid for a third-straight state title in a overtime thriller with Adams Central's Braiden Kort. Kort got on the scoreboard first with an escape in the second period. With 1:50 left in the match, Chavez got a point on an escape of his own. In the overtime period, Kort got a takedown on Chavez with 29 seconds to go and picked up another three on a nearfall with six second left on the clock.
Chavez rebounded with his second win of the tournament over Connor Ritonya, of Bennington. Chavez earned a 3-1 win to move on in the consolation bracket.
Chavez earned a third-place finish with a 5-2 win in the consolation finals over Columbus Lakeview's Andon Stenger.
Chavez went up 3-0 on an escape and takedown in the second. Both wrestlers scored on reversals in the third as Chavez claimed the 5-2 win.
Wahoo's Malachi Bordovsky pinned Gering's Ty Nagel in 28 seconds sending Nagel to the consolation bracket.
In the consolation semifinals, Bennington's AJ Parrish claimed an 8-6 overtime with over Nagel. Nagel scored on a takedown in the first with 28 seconds to go, and Parrish earned an escape point to give Nagel the 2-1 advantage.
Nagel earned two more points in the second on a nearfall, with Parrish again earning an escape point.
Nagel was up 4-2 heading into the final period. An escape point gave Nagel the 5-2 lead with 1:30 to go in the match. Parrish closed the gap to 5-4 with a takedown. Nagel looked like he might pick up the win taking a 6-4 lead on an escape with under a minute to go, but Parrish scored on a takedown with 10 seconds left to take it into overtime. Parrish, again, scored on a takedown in overtime to claim the 8-6 win.
Nagel fell 6-3 to Dreu White, of Cozad, to end the tournament in sixth place.
Gering's Nate Rocheleau was edged 3-2 by Beatrice's Trevor Reinke. Njeither wrestler was able to score a point in the first period.
In the second, Rocheleau took an early 1-0 lead with 1:31 left. Reinke, though, got a takedown with 50 seconds left in the second to take a 2-1 lead, before Rocheleau picked up another point on an escape just 17 seconds later. The match looked like it might go to an overtime period before Reinke earned an escape point with 33 seconds left to break the tie.
Seward's Cameron Schrad earned a dramatic 6-5 win over Rocheleau in the consolation semifinals. The wrestler were tied at 5-5 and appeared to be heading to overtime, but Schrad earned a point on an escape with 1 second left to take the win.
Rocheleau takes home a fifth-place medal with an 8-1 decision over Michael Mass, of Ralston.
In the 170-pound bracket, Gering's Jacob Awiszus took on Evan Canoyer, of Waverly. Canoyer was the No. 1 ranked wrestler by the Nebraska Scholastic Wrestling Coaches Association at 170 all season long, and Awiszus maintained the No. 2 ranking. The match lived up to the hype.
Awiszus got an escape point with 1:47 left in the second period. In the third, Canoyer evened the scored at 1-1 with an escape with 1:55 to go and scored a takedown at 1:26 to take a 3-1 lead. Awiszus picked up another escape point with 29 seconds left, but he was unable to pick up another as Canoyer advanced to the finals with a 3-2 win.
Awiszus dominated Hastings' Jackson Phelps in the consolation semifinals picking up an 8-0 win.
Awiszus finished third after picking up a win over Pierce's Zander Schweitzer by medical forfeit in the consolation finals.
Sidney had three wrestlers earn state medals led by a third place finish by Chance Houser at 106. Austin Munier took fifth at 120 and Brady Robb finished fourth at 182.
Chadron's Daniel Wellnitz picked up a state medal with a fifth place finish at 152 pounds.
In Class C, Bridgeport had three wrestlers medal. Damien Bell and Trevor Widener finished fifth and Steven Menke ended in sixth.