It's happily ever after for Mr. Kevin Donovan Bakkehaug and Mrs. Alyson Campbell Bakkehaug!
Kevin is the son of Herby Bakkehaug of Alliance, Neb. and Stephanie Hood of Sheridan, Wyo. He is the grandson of Roger and Debi Bakkehaug- of Alliance, Lois and Dan Robertson- of Alliance, and Mike and Marilyn Hood- of Beulah, N.D.
Alyson is the daughter Cindy and Craig Campbell of Parker, Colo. She is the granddaughter of the late Wes & Mary Campbell and the late Joeseph & Maxine Pawlowski. The bride wore her Grandma Maxine's engagement ring, diamond tennis bracelet and her garter from their wedding in 1947 as a tribute to her late grandma.
Once upon a time, on October 29, 2021, they said "I do." in front of 65 of the people who love them most who traveled to a different country to celebrate the occasion. The wedding took place on the beach in tropical Punta Cana in the Dominican Republic. It was a sunny and perfect day with temperatures around 87°F and waves from the Caribbean Sea crashing on the beach.
Alyson looked like a fairytale princess wearing an Amani gown designed by Galia Lahav. The glamorous fitted mermaid dress with a plunging v neckline and a drop low back fit her like a glove. The dress was made of delicately embroidered French lace with scalloped motif accents styled throughout and features a silver and ivory hand embroidered strap detail transcending the neckline.
Kevin and his groomsmen fit in with the beach theme with matching Tommy Bahama linen outfits and their toes in the sand.
The couple were married by the bride's childhood friend: Nick Tokarsky.
Groomsmen were: John Belliveau- Best Man, Scotty Wollen, Gabe Legler, Collin Eisenman, Brandon Campbell, and Adam Bakkehaug.
Bridesmaids, who were dolled up in cheetah print dresses as a nod to the brides grandma, were: Mikayla Hudson- Maid of Honor, Haley Cameron- Maid of Honor, Jaymie Kreiling, and Nicole Huston.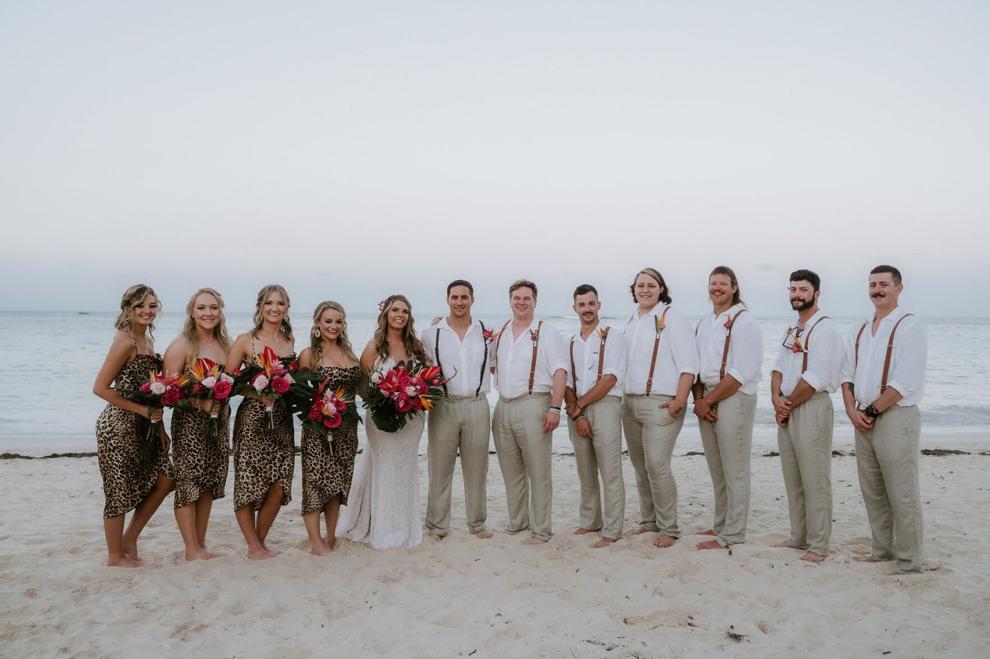 Special guests in attendance on Kevin's side of the family included: his parents, grandparents- Roger & Debi Bakkehaug, grandma- Lois Robertson, brother- Adam Bakkehaug & his fiancé Tyler Fitzpatrick, aunts- Kay Bakkehaug & Shari Walton, great aunt- Scherri Isaman, and cousin- Kelbi Kotschwar.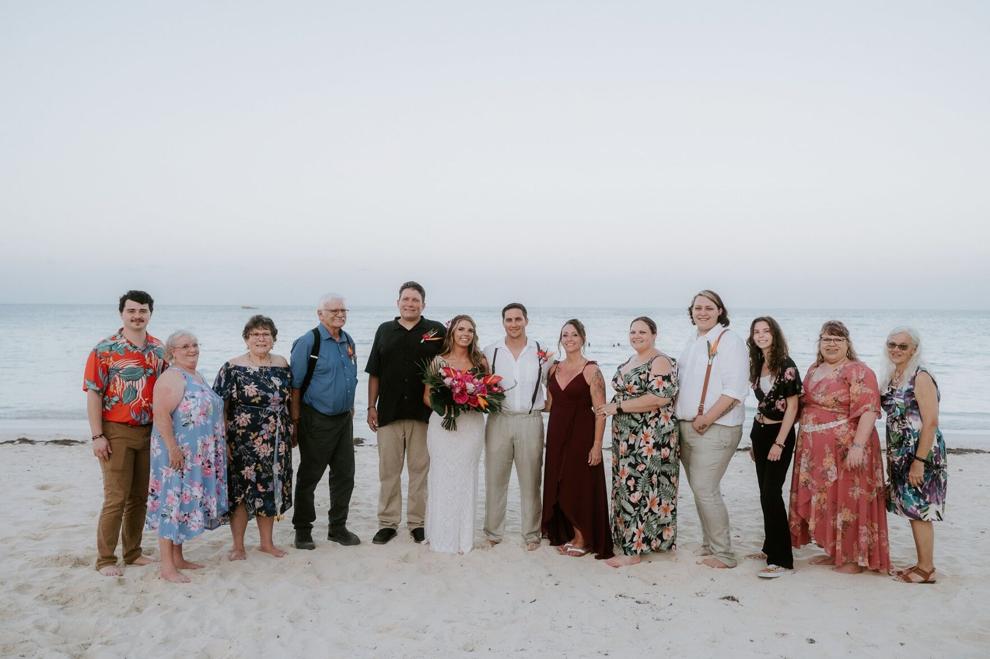 Special guests in attendance on Alyson's side of the family included: her parents, aunt & uncle- Amy & Kim Pawlowski, aunt- Dianne Pawlowski, cousins- Misty & Jake Durando, and brother- Brandon Campbell.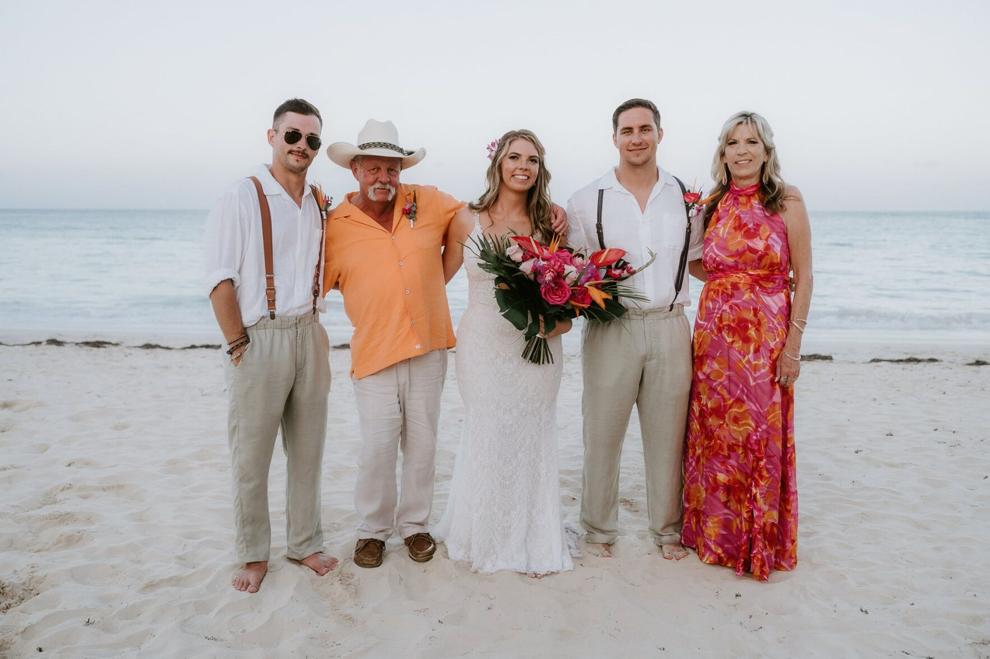 It was on the beach that Kevin and Alyson sealed their love and their fate with a magical kiss.
The wedding guests enjoyed cocktails and fresh seafood hors d'oeuvre while wedding photos were taken. Everyone was escorted inside the Kukua Beach Club where the couple was announced for the first time as Mr. and Mrs. Bakkehaug! They were seated at the head table next to life-size cardboard cutouts of the couple's dogs Marvin and George.
Everyone enjoy a four course meal prepared by top rated chefs. The appetizer was fresh local ceviche and the first course was a Caprese salad with heirloom tomatoes. Next came the entrée that was a feast for the eyes as well as the mouth. It was a filet mignon, local fresh caught lobster, Caribbean seabass, prawns, and calamari all served with herb and garlic mashed potatoes and farm fresh seasonal vegetables. The dessert table was another beautiful and unique sight, guest could choose from crème brûlée, key lime pie, passion fruit mousse, or chocolate mousse. The newlywed couple fed each other a bit of crème brûlée instead of the traditional wedding cake.  
Mayte Marie of Kukua was the incredible designer and responsible for executing the design that Alyson had envisioned and the wedding coordinator was Rachel Enright.
Enormous arrangements of fresh tropical flowers decorated the wedding ceremony and reception tables. Arrangements included: orchids, bird of paradise, stargazer lilies, chenilles, lots of Bougainvillea, ginger, anthuriums, monstera and palm leaves.
The couple kicked off the dance party with the most unique first dance that blew guests away. There were fireworks! Literally!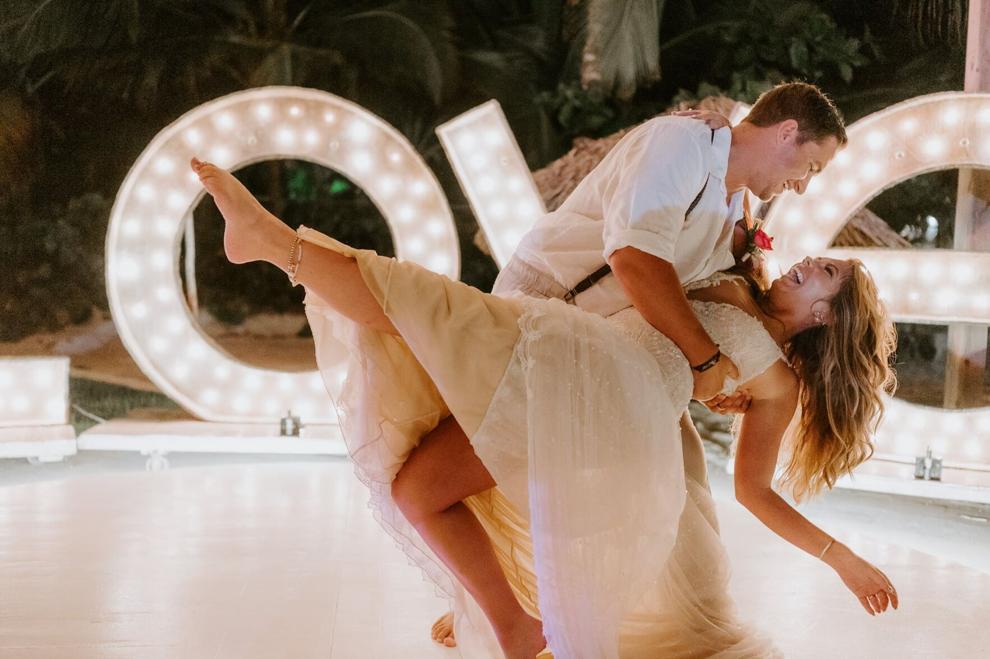 The couple honeymooned at an intimate, cliff-side resort in the Dominican Republic but are planning for a honeymoon in April to Bali with stops in Singapore and Istanbul.
Kevin (originally from Alliance, Neb.) is enlisted in the United States Navy. He is a 2nd class petty officer and construction electrician for the Seabees in the Public Works Department in Little Creek, Va. The couple will continue their fairytale in Virginia Beach where they reside with their fur babies. One day Kevin will retire and they will travel the country in an RV with their dogs.
CLICK THE LINK BELOW FOR THE COUPLES FIRST DANCE!